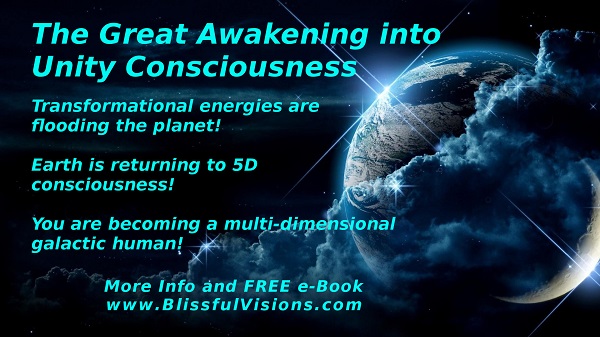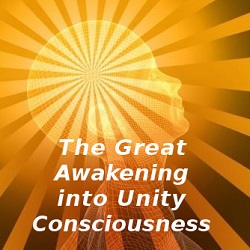 FREE E-BOOK
The Great Awakening into Unity Consciousness
Written by Rev. Dennis Shipman
A 28-page eBook you can read in a short time, accompanied with a recommended reading list. The entire planet and its human population – as well as the entire solar system – are undergoing the greatest event in human history. There is a tremendous amount for us to learn about our true identity and the history of our evolutionary journey on Earth. It has been hidden from us for thousands of years. As you will discover, it is a premiere major shift beyond our wildest dreams!
FOLLOW THESE EASY INSTRUCTIONS TO DOWNLOAD YOUR FREE COPY. ENJOY!

Click "ADD TO CART" button. A new window will pop up.
You will see zero in the price column. It means no payment is required - it's FREE.

Click "CHECKOUT" button. It will take you to buyer's information page.

Fill out buyer's information: first and last name and email address are required. An email notification will be sent to your email inbox.

Click "COMPLETE FREE CHECKOUT" button. Be patient. It will take a couple seconds to process your request. It will take you to the download page.

TABLE OF CONTENTS
CHAPTER 1: THE GREAT AWAKENING
The Great Awakening is about a complete flip of reality. Everything is changing! There has never been a better time to be alive on the earth plane! Would you believe this is the reason you have chosen to be here at this time on Earth for this unprecedented event – to experience planetary transformation in conjunction with your own transformation into Unity Consciousness.
CHAPTER 2: UNITY CONSCIOUSNESS
Discover what Unity Consciousness is; and how you are Unity Consciousness.
CHAPTER 3: THE ILLUSION OF SEPARATION
Learn how thousands of years ago, human DNA was reduced to 2-strands in an attempt to enslave humanity; how limited consciousness distorts perception and how it will be affected by The Great Awakening.
CHAPTER 4: THE NATURE OF CONSCIOUSNESS
Learn how the foundation of everything in creation is composed of consciousness. How it manifests in physical creation. And, how the play of consciousness affects you.
CHAPTER 5: THE LIGHT OF CONSCIOUSNESS
Discover what the Light of Consciousness is and why you will never get away from it.
CHAPTER 6: EVOLUTION OF CONSCIOUSNESS
We don't normally think of our ''consciousness'' as being evolutionary, but this chapter will give you cause for reflection and contemplation.
CHAPTER 7: COLLECTIVE CONSCIOUSNESS
Discover why those who would keep us under their domination and control don't want us to know about the power of human collective consciousness. If a critical mass of our human population understood and used this power, it would set us free.
CHAPTER 8: HEALING FOR THE AGE OF LIGHT
The powerful evolutionary energies of The Great Awakening are pouring into the planet, and they are becoming more and more intense. We have a choice to ascend with Mother Earth into this new frequency of higher consciousness. This is why personal healing and healing the planet are so vitally important.
CHAPTER 9: SYMPTOMS OF THE GREAT AWAKENING
Our physical bodies are undergoing a radical transmutation to become light bodies, and they require an adjustment period as the incoming evolutionary energies stabilize. Yet, the shifting process is causing symptoms of discomfort within all of us. Here's a list of common symptoms that people around the world have reported, and how you can make an easy shift into The Great Awakening of Unity Consciousness.
PARTIAL LIST OF RECOMMENDED READING
The resources listed below I've been following for many years. I worked with Kirael for five years in Hawaii, met Sheldan Nidle in 1998 and have followed his work ever since, and find all these sources to be very credible. I encourage you to check them out! No, I don't receive any compensation for this promotion. I'm just sharing the love!
KIRAEL: THE GREAT SHIFT by Fred Sterling - Book Review
KIRAEL is the name of a highly evolved Light-Being in the seventh-dimension and a senior member of the Guidance Realm who is here to assist us through the shift. His transmedium is Kahu Fred Sterling, head pastor of the Honolulu Church of Light. The church broadcasts a FREE weekly internet radio program from Honolulu, Hawaii. Includes updates on The Great Shift in Consciousness, and accepts questions from worldwide audience answered by Kirael. Publishes books and CD's on The Great Shift, The Genesis Matrix, Signature Cell Healing, Guide to the Unseen Self, Lemuria, Ten Conscious Creating Principles. Also, offers online workshops and events and FREE email updates.
---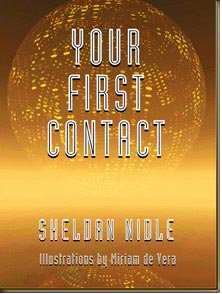 YOUR FIRST CONTACT by Sheldan Nidle - Book Review
A channel for Earth's Spiritual Hierarchy and the Galactic Federation of Light (a membership of over 400,000 star-nations formed more than 25 million years ago that evolved from a special organization in a region near the current Constellation of Gemini). His book "Your First Contact" provides a very good understanding of humanity's origins, the origins of darkness on the planet, what's happening now and where we are headed. Sign up for FREE weekly email updates – describes the coordinated efforts of Earth's Spiritual Hierarchy, the Galactic Federation of Light, and the Agarthans to bring the planet and her inhabitants into full-consciousness, prosperity for all and a new age of Light. The Agarthans are a spiritually and technologically advanced civilization that inhabits inner Earth. Sheldan produces books, videos, and regular internet webinars on topics of The Great Shift.
---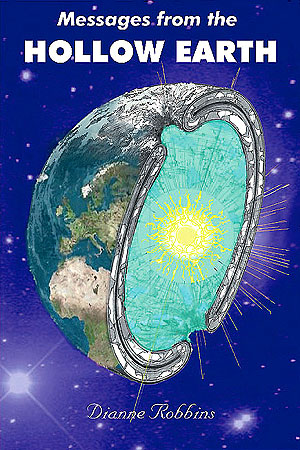 MESSAGES FROM THE HOLLOW EARTH by Dianne Robbins - Book Review
Publishes channeled information about the Agarthans and Inner Earth. Her book contains facts about Inner Earth that are being kept hidden from the public, such as: The Earth is hollow. It does not have a molten core. It has always has been hollow. In fact, all planets are hollow! A fully-conscious spiritually advanced human civilization inhabits Inner Earth (known as the Agarthans – descendants from ancient Lemuria). They are what we shall become. The Agarthans have mastered mental telepathy and time-travel, travel by spaceships that use anti-gravity for propulsion, live with free energy and abundant prosperity, have oceans and beaches, don't age, live in disease-free bodies, and live hundreds and thousands of years! There's much more in the book! FREE email updates.

SHARE THIS


<!—---------------MENU BAR RIGHT SIDE ... LINKS GO HERE! ----------------------------->