Affordable price includes free shipping. Perscription optional. There is a small fee if you do not have a doctor. They have a doctor working with the pharmacy to provide the medicine based on the completion of a questionnaire.
Rated #1 online pharmacy by TrustPilot. Click image for website. Ask for free information to be emailed to you. Email: service@insulinhub.com – Phone: +1-718-213-4448 - Fax 1-844-982-0311. (Note: I called the company and they sent me this info. I do NOT receive any financial compensation from them).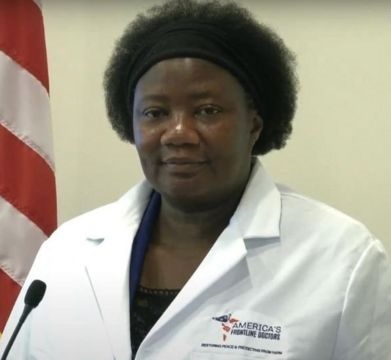 July 30, 2020 – BIG TECH CONTINUES ITS CENSORSHIP OF AMERICA'S FRONTLINE DOCTORS – Reclaim the Net - Dr. Stella Immanuel, one of the doctors featured in the recent viral White Coat Summit press conference, has been locked out of her Twitter account (@stella_immanuel) for six days after Twitter said she "violated the Twitter rules."
During the White Coat Summit press conference, several doctors claimed that they've treated the coronavirus with a 100% success rate and supported hydroxychloroquine (HCQ) as a treatment option.
Immanuel said she has "personally treated over 350 patients with COVID" including patients that have diabetes, high blood pressure, and asthma. "I put them on hydroxychloroquine, I put them on zinc, I put them on Zithromax and they are all well," Immanuel said.
Within hours of being posted, the press conference racked up tens of millions of views on social media but then it was swiftly censored by Facebook, Twitter, and YouTube for violating their "coronavirus misinformation" rules.

Shortly after the press conference was scrubbed from social media, the website of the doctors who appeared at the press conference was taken down by web hosting platform Squarespace for "activity that's false, fraudulent, inaccurate or deceiving."

Several Twitter users to have their accounts locked after sharing videos of the White Coat Summit press conference including digital education platform PragerU, Breitbart News, and the President's son Donald Trump Jr.
The mass censorship of the White Coat Summit press conference has ignited mass pushback from several doctors and politicians who argue that treatment options for the coronavirus should be debated, not censored.
But in today's (July 29th) House Judiciary Committee hearing on antitrust law, the CEOs of Google and Facebook doubled down on their policy of censoring doctors if they share what the tech overlords deem to be "coronavirus misinformation."

Google CEO Sundar Pichai said that if the advice of doctors contradicts recommendations from the Centers for Disease Control and Prevention (CDC), then it will be taken down while Facebook CEO Mark Zuckerberg said that posts saying hydroxychloroquine (HCQ) is a cure for COVID will be removed. Source: Reclaim the Net.org
July 29, 2020 – FACEBOOK, GOOGLE, YOUTUBE, TWITTER CENSOR VIRAL VIDEO OF DOCTORS CAPITAL HILL CORONA VIRUS PRESS CONFERENCE.
Facebook has removed a video posted by Breitbart News earlier today (July 28), which was the top-performing Facebook post in the world Monday afternoon, of a press conference in D.C. held by the group America's Frontline Doctors and organized and sponsored by the Tea Party Patriots.
The press conference featured Rep. Ralph Norman (R-SC) and frontline doctors sharing their views and opinions on coronavirus and the medical response to the pandemic. YouTube (which is owned by Google) and Twitter subsequently removed footage of the press conference as well.
The video accumulated over 17 million views during the eight hours it was hosted on Facebook, with over 185,000 concurrent viewers.
The event, hosted by the organization America's Frontline Doctors, a group founded by Dr. Simone Gold, a board-certified physician and attorney, and made up of medical doctors, came together to address what the group calls a "massive disinformation campaign" about the coronavirus (Ed's Note: Many doctors in the video supported the amazing healing properties of Hydroxychloroquine (HCQ).
"If Americans continue to let so-called experts and media personalities make their decisions, the great American experiment of a Constitutional Republic with Representative Democracy, will cease," reads the event's information page.
"We've removed this video for sharing false information about cures and treatments for COVID-19," a Facebook company spokesman, Andy Stone, told Breitbart News. The company did not specify what portion of the video it ruled to be "false information," who it consulted to make that ruling, and on what basis it was made.
Facebook's decision to censor the livestream was quickly followed by YouTube, the Google-owned video-sharing platform. The video had over 80,000 views on YouTube prior to its removal.
Following Facebook and YouTube's removal of the video, Twitter followed suit, removing Breitbart News's Periscope livestream of the press conference. Jack Dorsey's platform also then limited the Breitbart News official account, indicating that tweets containing links to multiple stories about the press conference violate the platform's COVID-19 policies. Watch the BANNED VIDEO Here. ||| Read the Transcript of the Press Conference Here (English).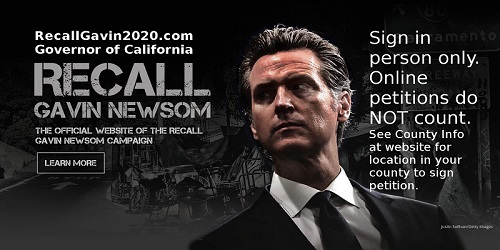 July 28, 2020 – RECALL GAVIN NEWSOM - An effort to recall California Gov. Gavin Newsom (D) was launched on June 10, 2020 by RecallGavin2020.com. Supporters of the recall have up to 160 days — or no later than November 17, 2020 — to collect the 2 Million signatures needed to require a recall election.
Recall supporters criticize Newsom over his response to the coronavirus pandemic, tax increases, the high rate of homelessness, sanctuary city policies, suspension of the death penalty, rationing water use, as well as restricting parental rights.
The recall effort was introduced by retired Yolo County Deputy Sheriff Orrin Heatlie. It was approved for circulation by the secretary of state on June 10, 2020. Newsom was elected as California's governor in 2018 with 61.9% of the vote.
One of the most glaring concerns about Newsom came with his draconian mandates over the state during the COVID-19 pandemic. He seems bent on destroying the state's economy and causing widespread destitution over a disease that has been mostly underwhelming.
Outside of mainstream media and their attempts to use the coronavirus to take down President Trump, Americans are waking up to the reality that this disease is a killer to the elderly and those with serious underlying health conditions, but it's not the existential threat Newsom and others have been painting it as.
Otherwise healthy workers and business owners are finding out the hard way that authoritarians like Newsom will take advantage of fear to achieve their political goals. More at RecalGavin2020.com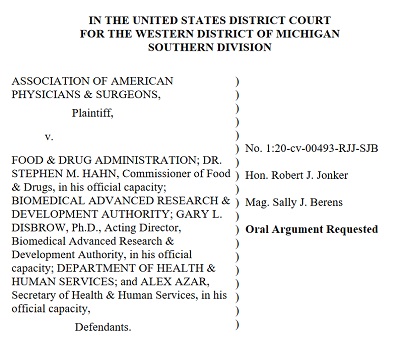 July 28, 2020 - MORE EVIDENCE PRESENTED for Why Hydroxychloroquine Should be Made Available, in a New Court Filing by AAPS - This week (July 22nd) the Association of American Physicians & Surgeons submitted additional evidence to a federal court for why interference with hydroxychloroquine (HCQ) should end by the Food & Drug Administration (FDA) and the Department of Health & Human Services (HHS), in AAPS v. FDA, No. 1:20-cv-00493-RJJ-SJB (W.D. Mich.).
Most Americans are still unable to obtain HCQ for early treatment of COVID-19, and virtually no Americans are able to access it as preventive medicine. HCQ has been used safely for decades by travelers to protect against malaria, but Americans are dying from COVID-19 while HCQ is withheld from them.
"Citizens of the Philippines, Poland, Israel, and Turkey all have greater access to HCQ than American citizens do," observes AAPS General Counsel Andrew Schlafly. "In Venezuela, HCQ is available over the counter without a prescription, while in the United States pharmacists are prevented from filling prescriptions for HCQ."
The cost of this medication is less than a dollar a dose, in contrast with the very expensive alternatives being pushed by FDA officials. ||| Click Here for FULL REPORT. |||
War on a Drug: HCQ is not addictive, or a controlled substance under federal law. Overdoses are possible, but much less frequent than with acetaminophen, aspirin, ibuprofen, diphenhydramine, and many other over-the-counter drugs. So why the war on HCQ waged by the administrative state, with no pushback from most of organized medicine?
A victor in the war on HCQ is remdesivir, called the "standard of care" by Anthony Fauci. A price of $3,120 has been set for a 5-day course of treatment, and the U.S. government has bought up Gilead's anticipated 3-month production of 500,000 doses. The price is "outrageous," said Rep. Lloyd Doggett (D-Texas). "Without a taxpayer investment of $99 million, this drug would have been…on the scrap heap of failures." ||| Click Here for FULL REPORT. |||
While more than 100,000 American deaths have been attributed to COVID-19 (June 2020), 150 million doses of hydroxychloroquine, donated by manufacturers, are deteriorating in government warehouses. There is an aggressive campaign to portray HCQ at first as "unproven" and now as also "unsafe." Following the lead of the Food and Drug Administration's Emergency Use Authorization (EUA), which prohibits use of HCQ being stored in the Strategic National Stockpile (SNS) outside of hospitals, most states have placed unprecedented restrictions on physicians' ability to prescribe HCQ "off-label" for COVID-19.
Through a biased, improper process, FDA officials from prior administrations acted contrary to the wishes of President Donald Trump by arbitrarily limiting use of HCQ. Rick Bright, Ph.D., former head of BARDA, who is an outspoken critic of President Trump and is personally opposed to making HCQ widely available, distorted the agency process to unjustifiably limit access.
HCQ has been approved as safe by the FDA for 65 years, and is safer than numerous medications that are widely available over-the-counter (OTC), including anti-depressants, sleeping pills, bronchodilators, Tylenol, and even aspirin. More than 25 articles since 1982 published in peer-reviewed medical journals have reported on the safety of HCQ, and these articles are included in the PubMed database.
In countries that started using HCQ for prophylaxis and early treatment, death rates soon began to decrease, and the ratio of recoveries to deaths increased dramatically, e.g. in Cyprus, Costa Rica, Russia, Monaco, Algeria, Turkey, Israel, Italy, Peru, Honduras, Indonesia, United Arab Emirates, South Africa, and Portugal. But WHO has now recommended that use of chloroquine (CQ) and HCQ for COVID-19 be suspended, and is also suspending their use in a global clinical trial called Solidarity.President Trump announced that he is ending U.S. membership in WHO. The U.S. has sent Brazil 2 million doses of HCQ to be used as a prophylactic and early treatment for medical workers who are infected with COVID-19.
No FDA Authority to Regulate Medical Practice: FDA has expressly recognized the freedom that medical professionals possess to use and prescribe approved drugs off-label: "[O]nce a [drug] product has been approved for marketing, a physician may prescribe it for uses or in treatment regimens of patient populations that are not included in approved labeling." 59 Fed. Reg. 59, 820, 59, 821-22 (Nov. 18, 1994).
"FDA regulations have attempted to strike a balance between giving physicians the freedom to use their best clinical judgment and preventing drug manufacturers from inappropriately influencing prescribing practice." Written prescriptions do not have a place to write the indication, and this has not traditionally been required. Physicians argue that it violates patients' privacy. ||| Click Here for FULL REPORT. |||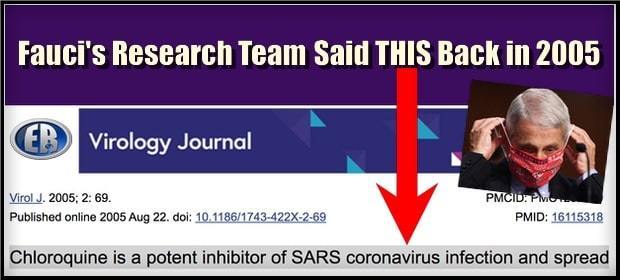 July 27, 2020 - DEADLY COVER UP: Fauci Approved Hydroxychloroquine 15 Years Ago to Cure Coronaviruses; "Nobody Needed to Die" - One News Now - Dr. Anthony Fauci, whose "expert" advice to President Trump has resulted in the complete shutdown of the greatest economic engine in world history, has known since 2005 that chloroquine is an effective inhibitor of corona viruses.
How did he know this? Because of research done by the National Institutes of Health, of which he is the director. In connection with the SARS outbreak - caused by a corona virus dubbed SARS- CoV - the NIH researched chloroquine and concluded that it was effective at stopping the SARS coronavirus in its tracks. The COVID-19 bug is likewise a corona virus, labeled SARS-CoV-2. While not exactly the same virus as SARS-CoV-1, it is genetically related to it, and shares 79% of its genome, as the name SARS-CoV-2 implies. They both use the same host cell receptor, which is what viruses use to gain entry to the cell and infect the victim. ||| Click Here for FULL REPORT. |||
WHY ARE WE CALLING THEM "VACCINES"? THEY ARE NOT MEDICINE. - From The Solari Report by Catherine Austin Fitts - Enormous profits are generated by so-called "vaccines" subsequent to the passage of the National Childhood Vaccine Injury Act of 1986 and the creation of the National Vaccine Injury Compensation Program — a federal no-fault mechanism for compensating vaccine-related injuries or deaths by establishing a claim procedure involving the United States Court of Federal Claims and special masters. Call a drug or biotech cocktail a "vaccine," and pharmaceutical and biotech companies are free from any liabilities — the taxpayer pays.

The Public Readiness and Emergency Preparedness Act (PREPA or the PREP Act) became law in 2005, adding to corporate freedoms from liability. The Act "is a controversial tort liability shield intended to protect vaccine manufacturers from financial risk in the event of a declared public health emergency. Click Here For FULL REPORT.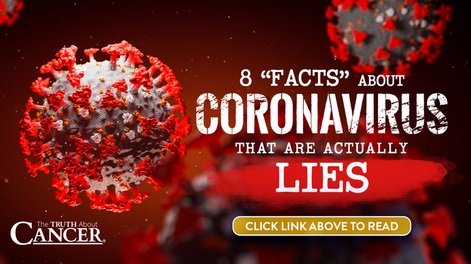 July 26, 2020 - 8 "FACTS" ABOUT CORONA VIRUS THAT ARE ACTUALLY LIES - By Ty & Charlene Bollinger, Founders of The Truth About Cancer.
Have you ever pondered the fact that the current COVID lockdown, masks, and fear may be a result of official "facts" that are not facts at all but are, well, actually lies?
In our opinion, the propaganda campaign surrounding this so-called "pandemic" has achieved its goal. Inundated with voluminous amounts of contradictory information coming from all angles, people in general have succumbed to "analysis paralysis," confusion and fear.
Many have given up trying to actually understand the situation and apparently have decided that, regardless of how insane or illogical the directives may be, it's just easier to act like "robotic sheeple" and obey … even if it means giving up freedom and liberty.
We constantly hear about the "new normal" which includes COVID testing, contact tracing, monitoring, surveillance, mask-wearing, social distancing, quarantine and isolation, with the possibility of mandatory vaccinations and microchipping coming soon.
But cognitive dissonance has taken over. For instance, multiple studies have confirmed that sunlight kills COVID in a matter of minutes, as reported in a recent New York Post article.
In light of this fact, why did Gavin "the Dictator" Newsom recently go full totalitarian and ban activity on the beaches in California? And although multiple studies have shown that COVID fatality rates are rapidly decreasing, the California "dictator" has arbitrarily (and capriciously) proclaimed that indoor activities (including churches, gyms, and bars) in over two dozen counties must be stopped … except for his winery, of course.
This is the stuff of tortured logic, and it's a primary reason why many "thinking" Americans are suspicious of government's COVID guidance, and frustrated with private business response to the guidance.
There are several official "facts" which have led to this insane state of fear and irrational and illogical recommendations about COVID, and in this article, we're going to prove, without a shadow of a doubt, that they are lies. Click Here For FULL REPORT.
July 22, 2020 - TWITTER BLACKLISTS QANON CONTENT – Purges over 7,000 accounts, and suppresses 150,000 others - A Twitter spokesperson said QAnon is now considered "coordinated harmful activity."
Twitter has announced sweeping changes that will essentially blacklist QAnon content from the platform. QAnon followers are largely pro-Trump and believe that a high-level government insider or group of insiders named "Q" are working to bring down the Deep State (a group inside the government that operates independently of elected officials to promote its own interests) and sharing their plans via online posts.
Under these changes, content and accounts associated with QAnon will be blocked from Twitter trends, recommendations, search, and conversations. Additionally, links that Twitter deems to be associated with QAnon will also be blocked and users will be unable to share them on the platform.
Twitter also wrote that "accounts tweeting about these topics that we know are engaged in violations of our multi-account policy, coordinating abuse around individual victims, or are attempting to evade a previous suspension" will be permanently suspended.
Twitter stated that it's making the changes in line with its approach of taking "strong enforcement action on behavior that has the potential to lead to offline harm." But the platform already has rules that address potential offline harm.
The crackdown comes less than four months before the 2020 US presidential election and follows both Facebook and Twitter applying warning labels to or censoring posts from Trump. The restrictions also follow Big Tech platforms ramping up their efforts to censor what they deem to be "misinformation" in the run-up to the election. Source: Reclaim the Net – Click Here For FULL REPORT.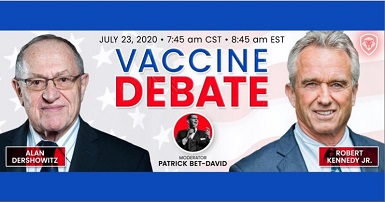 HISTORIC VACCINE DEBATE ON THURSDAY, JULY 23, 2020 - Attorney Robert F. Kennedy, Jr. vs Harvard Law Professor Alan Dershowitz - With the current COVID crisis dominating headlines at national and local levels, the topic of vaccines is now front and center. The two attorneys will debate a range of issues including vaccine mandates, the PREP Act, the lack of vaccine safety studies, Jacobson vs. Massachusetts, and HHS's failure to act on provisions of the National Childhood Vaccine Injury Act. Are compulsory vaccines even legal? Should any government be able to force medical procedures on families? Tune in July 23, 2020 8:45 a.m. EST / 7:45 a.m. CST / 5:45 a.m. for insightful discussions on these questions and more. ||| Click Here For Details! |||
July 13, 2020 - TEXAS DOCTOR REVERSES CORONA VIRUS SYMPTOMS IN 100% OF CASES WITH INEXPENSIVE TREATMENT - BeforeItsNews.com - Texas family doctor Dr. Richard Bartlett joins Debbie Georgatos on her show American Can We Talk to discuss a potential COVID CURE! Dr. Bartlett describes how he has been treating Covid-19 patients with 100% success rate using an inexpensive safe treatment that is commonly used for people with asthma.
The treatment is enhaling a steroid called budesonide using a nebulizer. Dr. Bartlett says many patients experience rapid relief from Covid symptoms after the first treatment. It's the same treatment that worked in crowded countries like Taiwan, Singapore and Japan who've had very few deaths compared to countries that locked down. Therefore, Bartlett questions the effectiveness of mandatory masks, social distancing or a vaccine.
He explained that a vaccine is unnecessary because the mortality rate is so low and effective treatments already exist. And he emphasized that vaccines would be ineffective because of constant mutations to the coronavirus. "The beautiful thing about the treatment that using is that no matter how many times it mutates it's universally going to work because it decreases the inflammation. It's a respiratory anti-inflammatory solution to a respiratory inflammatory problem." Click Here For VIDEO.
Sweden Was Right After All, Rest Of The World Was Punk'd - Technocracy News and Trends - Sweden shrugged off dire predictions of mass die-offs from COVID-19 and did not shut down their entire economy and society, and now their response has been proven correct while the rest of the world stumbled into mass hysteria. ⁃ TN Editor. Click Here For FULL REPORT.

The US National Security State Is Using Coronavirus To Drive Authoritarian Technocracy - Technocracy News and Trends - It is imperative to understand that the "Great Panic of 2020" is engineered around the pandemic by Technocrats who are driven to take over and control the whole planet, and especially the United States. The US government is already compliant toward Technocracy, but the American people are not. Until the soul of liberty is crushed in America, Technocrats will not have their way with us or the rest of the world. ⁃ TN Editor. Click Here For FULL REPORT.

COVID-19 MASK DECEPTION - A resource of scientific information, state laws, and support contacts for California and USA about the Health Hazards of Wearing a Mask, and What You Can Do To Stop Wearing A Mask. Click Here For WEBSITE.
July 11, 2020 - BUSTED: EIGHT NIH CORONA VIRUS EXPERTS DISCLOSE FINANCIAL TIES TO GILEAD. Eight members of the National Institutes of Health (NIH) expert COVID-19 Treatment Guidelines Panel disclosed recent financial relationships with Gilead, the drugmaker that is introducing an expensive Coronavirus competitor to Hydroxychloroquine, the inexpensive anti-malarial drug that President Trump has promoted which many people claim has helped them. This financial relationship between NIH experts and Gilead is especially concerning in light of revelations that NIH has a financial stake in the Bill Gates-funded Moderna vaccine, another competitor to Hydroxychloroquine. Chloroquine critic Dr. Anthony Fauci's NIAID is part of NIH. Click Here For FULL REPORT.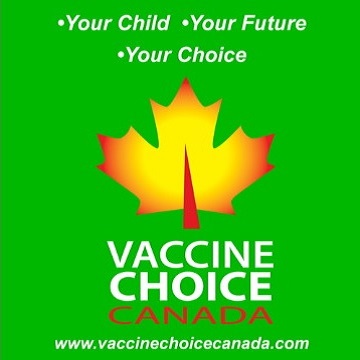 July 10, 2020 - PRESS RELEASE – Legal Challenge to COVID-19 Measures Filed In Ontario Superior Court. Vaccine Choice Canada (not-for-profit) has made numerous formal requests of the Government of Canada and various provincial governments to provide evidence that justifies the declaration of an emergency, the imposition of unscientific and unwarranted measures, and the violations of our Charter rights and freedoms, to no avail.
An over-hyped COVID-19 pandemic narrative is being utilized to create unnecessary panic and to justify the systemic violation of the rights and freedoms that form the basis of our society, including our Constitutional rights, sovereignty, privacy, rule of law, financial security, and even our very democracy.
Many recognized global health and research experts have offered their severe and valid criticism of government overreach and the draconian and unjustifiable measures taken in response to COVID-19. The warning bells are being rung about the dire consequences of these unwarranted, irresponsible, and extreme actions that are in violation of the rights and freedoms well established in Canadian and international law. All this continues to fall on the deaf ears of governments.
On Monday, July 6, 2020, Vaccine Choice Canada formally filed legal action in the Ontario Superior Court to hold multiple parties accountable for their actions with respect to COVID-19 measures. The defendants include: the Government of Canada, the Government of Ontario, the Municipality of Toronto, various public health officers, the Canadian Broadcasting Corporation, among others. Vaccine Choice Canada has a long history and enviable reputation of advocating for and defending the rights and freedoms of Canadians when it comes to public and individual health. Click Here To View FULL PRESS RELEASE and copy of legal challenge (Statement of Claim) by Vaccine Choice Canada.
July 9, 2020 - THE $2 FIX FOR COVID-19: Slashes Your Risk by 96%, How to Fix the COVID-19 Crisis in 30 Days - Dr. Joseph Mercola - The COVID-19 pandemic could be resolved in 30 days for about $2 per person, simply by taking affirmative action to raise vitamin D levels among the general public, according to Damien Downing, president of the British Society for Ecological Medicine, in a June 22, 2020, Orthomolecular Medicine News Service press release. The downside or risk of doing this is basically zero, while the potential gain could be avoiding another COVID-19 spike altogether. Click Here For FULL REPORT.
July 8,2020 - NEW DOCS: NIH OWNS HALF OF MODERNA VACCINE - Robert F. Kennedy, Jr., Chairman, Children's Health Defense - New documents obtained by Axios and Public Citizen suggest that the National Institute of Health (NIH) owns half the key patent for Moderna's controversial COVID vaccine and could collect half the royalties. NIH's stake in the jab may explain why Anthony Fauci moved Moderna's vaccine to the front of the line and to let Moderna skip animal trials despite the experimental technology and the inherent dangers of Coronavirus vaccines. Public health advocates and scientists criticized Fauci's decision to skip animal trials as reckless. It may also explain why Anthony Fauci arranged a $483 million grant to Moderna from a sister NIH agency, BARDA, despite the fact that Moderna has never brought a product to market or gotten approval. Click Here For FULL REPORT.
Hawaii Lawmakers Won't Give Health Director Broad COVID-19 Screening Powers. A controversial bill that outlined a state health department screening response during public health emergencies has died at the state Capitol. The broad wording in the proposal creates the policy environment for intrusion on civil liberties. The Bill gives the director police powers to separate families, confinement against individual will for undetermined length, and vaguely defined powers such as 'take other actions' and phrases like 'wherever necessary. The group Hawaii For Informed Consent, which led a social media campaign against it, said it would have provided "sweeping power to an unelected official." Click Here For FULL REPORT.
July 7, 2020 - "NO ONE HAS DIED FROM THE CORONA VIRUS" - Important revelations shared by Dr Stoian Alexov, President of the Bulgarian Pathology Association - A high-profile European pathologist is reporting that he and his colleagues across Europe have not found any evidence of any deaths from the novel coronavirus on that continent. Dr. Stoian Alexov called the World Health Organization (WHO) a "criminal medical organization" for creating worldwide fear and chaos without providing objectively verifiable proof of a pandemic.

Another stunning revelation from Bulgarian Pathology Association (BPA) president Dr. Alexov is that he believes it's currently "impossible" to create a vaccine against the virus. He also revealed that European pathologists haven't identified any antibodies that are specific for SARS-CoV-2. Click Here For FULL REPORT.
Senator and Former Minnesota Family Doctor of the Year Being Investigated for Questioning Covid Death Certificates by the Board of Medical Practice in Minnesota. Scott Jensen, Republican Senator from District 47 in the Twin Cities of Minnesota has a long history of health service and in 2016 was the recipient of the Minnesota Family Physician of the Year Award. What are his alleged crimes or malfeasances that could result in him losing his license, job and livelihood?

Jensen expresses his concern over being targeted for essentially doing his job, which is looking at data and information and making informed choices based on his experience and wisdom. Apparently, however, his statements have enraged the cancel mobs, and an anonymous complaint was filed against him.

Specifically, the investigation makes two allegations against him, both of them related to public statements about Covid-19. Firstly, he is being targeted for comparing numbers of Covid-19 cases to the typical number of flu cases that Minnesota has each year. Something which Jensen notes has been done numerous times by Tony Fauci and many other public health officials. Additionally, he has been speaking out about the issue of Covid death certificates, expressing concern that people who did not die of Covid are being counted as Covid deaths, a practice which falsely inflates mortality rates and irresponsibly contributes to the climate of fear around the disease. Click Here For FULL REPORT.

Novavax awarded $1.6 Billion for coronavirus vaccine development. - The U.S. federal government has awarded $1.6 billion to Novavax to test and manufacture possible vaccines for the coronavirus, the biggest award to date under the Trump administration's "Operation Warp Speed" program. The drugmaker aims to deliver 100 million doses of any potential vaccine by January, Reuters reported. The award will also cover a large-scale phase three trial that could begin by October. Smaller awards under the program thus far include $456 million to Johnson & Johnson, $486 million to Moderna and $1.2 billion for AstraZeneca, which is collaborating with Oxford University on its potential vaccine. Click Here For FULL REPORT.

Fauci Says Vaccine May Only Be 75% Effective And Transitory. Technocrats like Fauci require that all citizens be vaccinated, but then turn around and admit they basically don't have a clue as to the outcome. Nevertheless, in true Technocrat form, Fauci says that "Science will get us through this. We don't know how long COVID-19 antibody protection lasts," Fauci said. For all we know, any protection provided by the vaccine could be "transitory." Click Here For FULL REPORT.

Hospitals STILL banning HYDROXYCHLOROQUINE in order to hike up the death count. The war against hydroxychloroquine is stronger than ever as the American medical system continues to push back against its use at hospitals, which is causing patients with COVID-19 to die in greater numbers.

According to reports, Dr. Stephen M. Smith, the widely respected infectious disease specialist who back in April briefed President Donald Trump about the potential benefits of hydroxychloroquine, is no longer allowed to prescribe the drug at New York City-area hospitals. We have also learned that the U.S. Food and Drug Administration (FDA) has pulled emergency approval for the drug. This one-two punch means that patients in need will be hard-pressed to access the generic anti-malaria drug, which costs just a few pennies per pill and supposedly works well when combined with the mineral zinc. Click Here For FULL REPORT.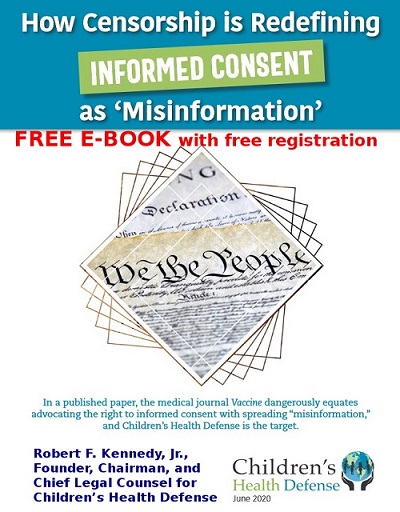 July 3, 2020 - FREE E-BOOK: How Censorship is Redefining Informed Consent as Misinformation. Individuals and organizations such as Children's Health Defense that speak out on vaccine safety issues are being censored in an unprecedented manner in both mainstream media and social media platforms. Investigative journalist Jeremy Hammond takes a look at how this climate of censorship is redefining even basic concepts such as informed consent by labeling all content that runs counter to government and industry claims regarding the safety and efficacy of vaccines as "misinformation." Click Here To Get Your Free Copy – Free Registration Required.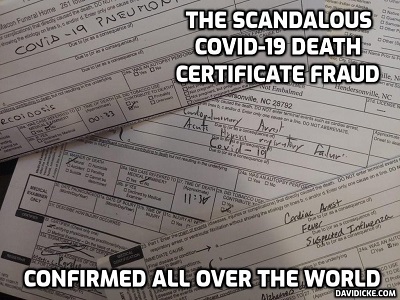 June 30, 2020 - CASH-4-COVID - HOSPITALS ARE MAKING HUGE AMOUNTS OF MONEY OFF THE CORONA VIRUS - Off-Guardian.org - We've known for weeks that hospitals get payments for diagnosing COVID-19, and even using ventilators. That should worry everyone.

Hospitals in the US are getting paid bonuses for diagnosing COVID-19 in their patients, and then larger bonuses again if those patients were put on ventilators. It's time we really started thinking about what that means.

According to FactCheck.org, recent legislation pays hospitals higher Medicare rates ($13,000) for COVID-19 patients admitted to the hospital. If that COVID-19 patient goes on a ventilator, the hospital gets $39,000 - three times as much.

Ventilators are known to likely make respiratory conditions much worse by damaging the lungs. A lot of times putting someone on a ventilator is a death sentence. We've been told that by several whistleblowers, not to mention medical experts.

Put those two bits of information together. Hospitals in the US – and perhaps other countries – are therefore employing treatments they know may kill their patients, in order to secure money. There is a hard reality here we've all been slowly becoming aware of for a while now. It's time we looked it square in the face. Click Here For FULL STORY.

June 29, 2020 - THE ELITE TECHNOCRATS (DEEP STATE) BEHIND THE GLOBAL "GREAT RESET" - Patrick Wood, Editor, Technocracy News & Trends - The leading partners of the United Nations Global Goals project reveal the real agenda of tyranny that lies behind the polished feel-good facade – it involves a plan to fully integrate mankind into a technological surveillance apparatus overseen by a powerful AI. The current pandemic scare has been a perfect trigger to kickstart this nefarious agenda. Click Here For FULL STORY.
Italian Deputy Sara Cunial speech on Deep State, Bill Gates, Agenda 21 at Italian Chamber of Deputies. May 14th, 2020. - WOW! Imagine someone talking like this on the U.S. Congressional Floor! Share this video. MAKE IT VIRAL!

The Media Is Lying About The "Second Wave" - Ron Paul, President, Ron Paul Institute - For months, the Washington Post and the rest of the mainstream media kept a morbid Covid-19 "death count" on their front pages and at the top of their news broadcasts. The coronavirus outbreak was all about the number of dead. The narrative was intended to boost governors like Cuomo in New York and Whitmer in Michigan, who turned their states authoritarian under the false notion that destroying people's jobs, freedom, and lives would somehow keep a virus from doing what viruses always do: spread through a population until eventually losing strength and dying out.

The "death count" was always the headline. But then all of a sudden early in June the mainstream media did a George Orwell and lectured us that it is all about "cases" and has always been all about "cases." Death, and especially infection fatality rate, were irrelevant. Why? Because from the peak in April, deaths had decreased by 90 percent and were continuing to crash. That was not terrifying enough so the media pretended this good news did not exist.

With massive increases in testing, the "case" numbers climbed. This is not rocket science: the more people you test the more "cases" you discover. Unfortunately our mainstream media is only interested in pushing the "party line." So the good news that millions more have been exposed while the fatality rate continues to decline - meaning the virus is getting weaker - is buried under hysterical false reporting of "new cases." Click Here For FULL STORY.

America's Revolutionary Founders Would Be Anti-Government Extremists Today - John W. Whitehead, Constitutional Attorney. - "It is the duty of the patriot to protect his country from its government." — Thomas Paine. Had the Declaration of Independence been written today, it would have rendered its signers extremists or terrorists, resulting in them being placed on a government watch list, targeted for surveillance of their activities and correspondence, and potentially arrested, held indefinitely, stripped of their rights and labeled enemy combatants. This is no longer the stuff of speculation and warning. In fact, Attorney General William Barr recently announced plans to target, track and surveil "anti-government extremists" and preemptively nip in the bud any "threats" to public safety and the rule of law. Click Here For FULL STORY.

VITAMIN D: BETTER THAN A MASK FOR COVID-19? - Dr. Joseph Mercola - The benefits of a mask are questionable, shouldn't a vitamin that makes it more and more difficult for viruses to gain entry through your eyes, ears, lungs and mucous membranes be promoted? So why is the American government refusing to investigate? British and Scottish authorities are embracing recommendations to improve public vitamin D levels. Click Here For FULL STORY.
June 24, 2020 - CALIFORNIA GOV. GAVIN NEWSOM SUED OVER MASK AND HOME IMPRISONMENT ORDERS - Freedom Watch Press Release - (Sacramento, California). Larry Klayman, the founder of both Judicial Watch and Freedom Watch, and now General Counsel of Freedom Watch, announced that a class action lawsuit has been filed against Governor Newsom's unconstitutional actions over stay at home and mandatory mask orders, both of which are detrimental to the health and well-being of California citizens.

The class action includes as a lead plaintiff, Ben Stein - an accomplished actor, writer, lawyer and financial expert and Judy Mikovits - the co-author, along with Kent Heckenlively, of the New York Times best selling book "Plague of Corruption," ||| download here ||| and a renowned expert in virology who worked alongside Dr. Anthony Fauci at the military's research facility in Ft. Detrick, Maryland. A PDF copy of the lawsuit can be found at ||| www.FreedomWatchUSA.org |||
FACEBOOK MODERATOR WHISTLE-BLOWER RAISES THE ALARM ON BIASED ALGORITHMS; DISPUTES MARK ZUCKERBGERG'S TESTIMONY TO CONGRESS – Reclaim the Net -
The latest Project Veritas investigation features a Facebook insider – Zack McElroy – who is offering evidence that in reality, content moderation is being carried out in a way that demonstrates discriminatory bias (censorship) against Republicans and conservatives in general. Click Here To Access The FULL REPORT.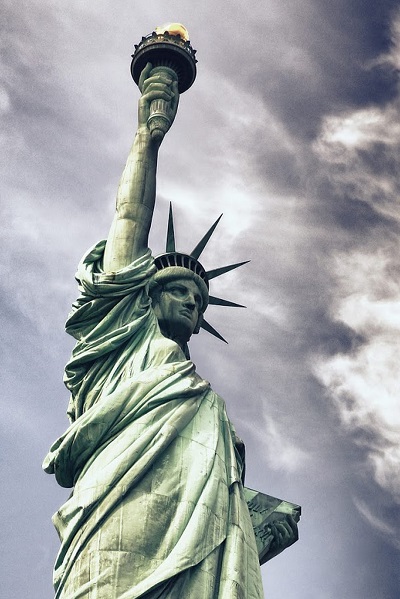 June 22, 2020 – TECH GIANTS WARNED: CENSORSHIP RUNS AGAINST FIRST AMENDMENT – John W. Whitehead, Constitutional Attorney for Rutherford Institute - MENLO PARK, Calif. — Denouncing attempts by big tech companies and social media platforms to silence controversial, provocative and/or politically unpopular viewpoints, The Rutherford Institute has warned that any move to de-platform, shadowban, and demonetize users based on their viewpoints will subject private corporations working in conjunction with the U.S. government to the strictures of the First Amendment.
In recent months, Google, Facebook, YouTube and other social media companies have taken steps to crack down on content that disputes accepted views on COVID-19; that could be considered "fake" news by establishment sources; or that could be perceived as promoting "hatred, intolerance, violence or discrimination." The sites targeted for censorship include those of David Icke for questioning the prevailing orthodoxy regarding the COVID-19 pandemic; Zero Hedge for not blocking reader comments that violates Google's policies on race; and The Federalist, also for allegedly racist remarks posted in its comments section.
"What we are witnessing is the modern-day equivalent of book burning, which does away with controversial ideas and the people who espouse them," said constitutional attorney John W. Whitehead, president of The Rutherford Institute and author of Battlefield America: The War on the American People. "This form of technofascism—large technology corporations with control over information colluding with governments to stifle forms of dissent that challenge an elitist status quo—is a slippery slope that starts with censoring so-called illegitimate ideas and ends by silencing truth."
Warning that private corporations are opening themselves up to First Amendment lawsuits by deactivating social media forums at the bidding of the U.S. government in order to silence views of which the government might disapprove, The Rutherford Institute is demanding that Facebook reverse its decision to deactivate the accounts of author David Icke and Ickonic Enterprises, which serves as an uncensored platform for news and information that provides a counterpoint to the curated news and information disseminated by the mainstream corporate media, acting at times as a mouthpiece for government agencies.
On May 1, 2020, Facebook deactivated Ickonic Enterprises' Facebook account, as well as those of Icke, "for going against the Facebook Community Standards on health misinformation that could cause physical harm." Around that time, YouTube, Vimeo and MailChimp also deleted the accounts of Ickonic and Icke.  MailChimp, an email marketing service, disabled their accounts, asserting violation of its terms of use. Vimeo, a video platform, removed Ickonic's account, asserting a violation of a rule forbidding content that is false or promotes hoaxes. YouTube, without warning, also deactivated Icke's account and deleted his channel because of policies "prohibiting any content that disputes the existence and transmission of COVID-19." This mass de-platforming occurred right after Icke, publicly and on Ickonic's various social media channels, questioned the prevailing orthodoxy regarding the COVID-19 pandemic, which has confounded the science and medical community. Icke had also challenged the authoritarian nature of the international community's governmental response to managing the pandemic.
In coming to the defense of Icke's First Amendment rights, Rutherford Institute attorneys contend that Facebook conspired with the U.S. government and other tech companies to violate Icke's rights under the First Amendment, the U.N. Declaration of Human Rights and U.S. antitrust laws.
The Rutherford Institute, a nonprofit civil liberties organization, provides legal assistance at no charge to individuals whose constitutional rights have been threatened or violated and educates the public on a wide spectrum of issues affecting their freedoms. Click Here To Access The Rutherford Institute's letter to Facebook.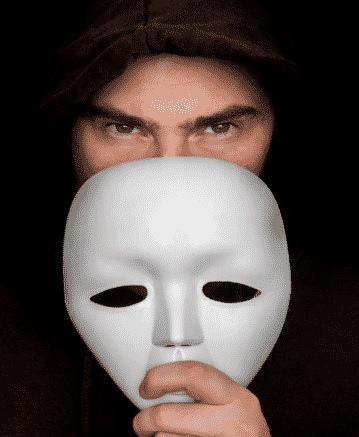 June 21, 2020 - The Miserable Pseudo-Science Behind Face Masks, Social Distancing And Contact Tracing - Patrick Wood, Editor and Author - The second wave of COVID-19 shutdown mania has started all across America with reinforced executive orders for mandated face masks, rigid social distancing and massive contact tracing.
Businesses are already dropping like flies as a blanket of made-up "guidelines" adds new expenses while cutting income. Churches are seeing 60+ percent drops in attendance and contributions. How long can they go on like this?
This is all so patently unconstitutional that one can barely even speak it. Never before in the history of America has the Constitution been so tattered and trashed. Courts don't care. Legislatures don't care. Politicians don't care.
That leaves you and me, friend. Only the people of America can decide to keep the Constitution and the rule of law. Only the people of America can turn back the onslaught of tyranny.
All of this nonsense is predicated on pseudo-science. Real science points in the exact opposite direction. This is why the pseudo-science behind this must be shattered, and that is why I wrote: The Miserable Pseudo-Science Behind Face Masks, Social Distancing And Contact Tracing.
Please read this and then share in every conceivable location possible. At the bottom of the article, there is a link to a formatted and printable PDF file. Download the file and print several copies to hand to people as you meet in person. Go to a print shop and print hundreds! Give it to managers of stores, owners of small businesses, pastors of churches, neighbors, family members etc. Source: Technocracy News & Trends - Click Here To Read The FULL REPORT.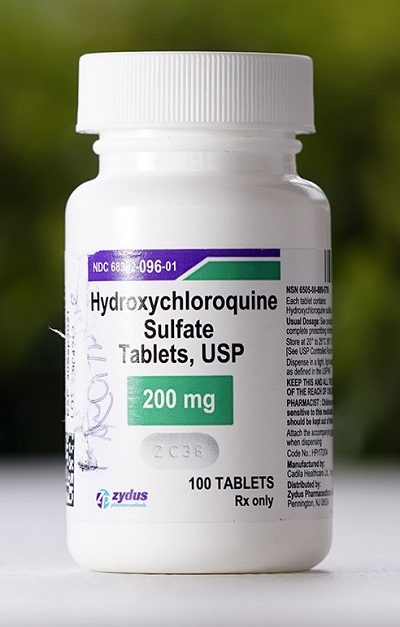 June 20, 2020 - Association of American Physicians and Surgeons Sues FDA for "Irrational" Interference of Access to Life-Saving Hydroxychloroquine - by Jim Hoft - The Association of American Physicians and Surgeons (https://aapsonline.org) filed a lawsuit against Department of Health and Human Services and the FDA for "irrational interference" by the FDA with timely access to hydroxychloroquine.
Never in history have we seen such a determined effort by the scientific community and pharmaceutical industry to downplay and lie about the use of a successful drug to treat a deadly disease.
Hydroxychloroquine is the first choice in a study of 6,000 doctors treating the coronavirus. In the field and in independent testing hydroxychloroquine displayed amazing results in treating the COVID-19 virus.
But there was great pushback against hydroxychloroquine for two reasons. The first reason was because it was safe and very inexpensive. The second reason is because Donald Trump promoted its use. It is not a stretch to say the Democrat establishment would rather see people die than see President Trump be proven right.
So the so-called experts went to great lengths to lie and smear the use of this drug as we have discussed previously. Now the Association of American Physicians and Surgeons sued the FDA for its irrational interference to access of the life-saving drug. This is a huge scandal that will be completely ignored by the liberal media. Source: The Gateway Pundit.
June 16, 2020 - FROM Q's FACEBOOK PAGE - Source: Special Restored Republic via GCR Report for June 16, 2020.
The cat is out of the bag. The virus was a hoax after all. The CDC, WHO and all the so-called experts lied to you! Here's the list:
🔺"CDC admitted they screwed up COVID19 infection counts and intentionally misled the public and have apologized, clarifying that the amount of people truly infected is much lower than what was originally reported -- an error so egregious it made the director of the Harvard Global Health Institute say "how could the CDC make this mistake? This is a mess."
🔺The American Coronavirus Task Force also admitted to fudging the National COVID19 death count when Dr. Birx said the deaths are people who died "with" COVID19 not "from" COVID19, thus making the real death count much lower than what is currently being reported.
🔺Dr. Anthony Fauci admitted masks won't help against the virus and mask manufacturers are now including warnings that their products do not deter COVID19.
🔺Fauci also said that continuing to close the country could cause irreparable damage.
🔺CDC backtracked their initial claim that led governors to shutdown their states & clarified that COVID19 does not spread easily on surfaces.
🔺Governor of New York Andrew Cuomo confirmed a recent health study showing that 70% of new infections actually originate at home, thus making stay at home orders one of the most dangerous mandates currently in place.
🔺Trump stopped funding the WHO and threatened to cut off money permanently until they can prove they are no longer corruptly influenced by communist China after they lied to our country about human to human transmission of COVID19 in January.
🔺The curve is flattened, the CDC, WHO, Dr. Fauci, our governors, and many more were completely wrong about the potential threat of this virus.
🔺Even California is opening up sooner than anyone expected because the evidence contradicts the long standing and inaccurate narrative still upheld by the extremely dishonest & corrupt media.
🔺If you are still living in fear, Don't be. The media, global organizations, the government, and its agencies "mislead" the public.
🔺 People called those of us who knew this all along conspiracy theorists, but it turns out we were just following the facts!
🔺 Open up your businesses, churches, and homes. Don't fall for the lies any longer. If you fell for the lies this time, wake up and join the army of truth seekers fighting on the front lines.
🔺 WHO have just admitted that transmission of the virus from an asymptomatic carriers - the whole reason for the lockdown, is rare!! ie you could not spread it before showing any symptoms!!
🔺The #CDC just confirmed a 0.2% death-rate for #COVID19. For that, we have:
Added nearly 6 trillion to national debt
Laid-off or furloughed 50 million workers
Placed 60 million on food stamps
Gone from 3.5%to 14.7% unemployment
Crippled the petroleum industry
Ruined the tourism industry
Bankrupted the service industry
Caused an impending meat and protein crisis
Threatened, fined, and arrested church leaders
Exacerbated mental health problems
Shut down schools and colleges
Given unbridled power to un-elected officials
Increased suicides higher than COVID deaths
Delayed surgeries and treatments for profound illnesses
Infringed upon countless important civil liberties
Placed 300 million Americans on house arrest
June 13, 2020 - THE PSY-OP GAME OF ACQUIESCENCE: MASS MANIPULATON AND MIND CONTROL OF THE HUMAN PSYCHIC IN COVID-19 PANDEMIC - David Icke (video) - David Icke has been banned on Facebook and Youtube because his version of the truth clashes with the wanna-be-power-elite, and he's waking people up to the real pandemic in our midst. Ask yourself: Who's benefits from the pandemic? Are you going insane yet with the lockdown and other restrictions? How long are you and I going to let this acquiescence continue? Click here to watch David Icke's new video "The New Normal is Designed To Drive You Crazy!"
EXCLUSIVE: Bill Gates Negotiated $100 Billion Contact Tracing Deal With Democratic Congressman Sponsor of Bill Six Months BEFORE Coronavirus Pandemic - True Pundit - The Bill and Melinda Gates Foundation helped negotiate a $100 Billion government-backed contact tracing contract in August 2019 — six months before the "pandemic" arrived in the United States and four months before it swept through China.

The shocking revelations were unveiled on the Thomas Paine Podcast and the Moore Paine Show on Patreon by the two investigators who blew the whistle on the massive Clinton Foundation tax fraud during a Congressional hearing in 2018. John Moynihan and Larry Doyle testified in Congress, detailing the fraud and schemes utilized by the Clinton's to avoid paying up to $2.5 BILLION in federal taxes. Click here for the podcast and full story.
June 10, 2020 - TAKE ACTION! MEDICAL FREEDOM LOVERS EVERYWHERE! - Regardless of where you live, you can help! New York State has been at the epicenter of coronavirus cases and deaths. In response, on May 13, the New York State Bar Association issued a Report of its Health Law Section Task Force on COVID-19. The 84-page report is generally helpful, covering issues of ethics, provider systems and issues, contract management and the workforce.

On the topic of vaccination, however, the report strays from common sense into rank salesmanship, attempting to sell people on the idea of COVID-19 vaccine mandates for every man, woman and child in New York State and the country. This is a shocking recommendation with no mention of safety, informed consent or the right to refuse unwanted medical interventions. No COVID-19 vaccines exist today; the infection rate is declining and may never recur; safety and efficacy are completely unproven for vaccines that don't exist, and yet this report attempts to sell coercive medicine as a good idea. Click here and join with Robert F. Kennedy, Jr., Chairman, Childrens Health Defense.
FACEBOOK RELIES ON GATES-FUNDED W.H.O. TO DEFINE "VACCINE MISINFORMATION" - Robert F. Kennedy, Jr., Chairman, Childrens Health Defense - On May 22, Facebook removed my IGTV interview with Polly Tommey ten minutes after I posted it, without comment or explanation. There were no inaccuracies in the 45-minute segment. Every statement can be sourced to peer-reviewed science.

Mark Zuckerberg says that Facebook relies on the World Health Organization (WHO) to determine which stories are "vaccine misinformation." That term is now a euphemism for any statement that departs from WHO's official pronouncements which are often a cavalcade of inaccuracies and falsehoods.

WHO is the instrumentality of Bill Gates. Gates is the single largest donor to WHO and the world's largest vaccine producer. WHO's 2019 pronouncement that "vaccine hesitancy" is one of the greatest global threats to public health, is, in itself, a whopping stretcher of vaccine misinformation. That statement is emblematic of how Gates's dictatorial control has made WHO a sock puppet for his personal obsessions and his private financial agenda. Gates also funds Facebook 's Fact checker function (Politifact) giving him the power to censor and control the flow of global information. Editorial by Robert F. Kennedy, Jr., Chairman, Childrens Health Defense.

W.H.O. SAYS ASYMPTOMATIC SPREAD OF COVID-19 IS "VERY RARE" - Patrick Wood, Editor, Technocracy News & Trends - On Monday, Dr. Maria Van Kerkhove of WHO released information that would prove the Great Panic of 2020, the lockdowns, isolations and quarantines and the resulting destruction of the global economy, were for naught.

On Tuesday, after Van Kerhove was undoubtedly excoriated (to denounce or berate severly) by WHO and other UN leaders, she furiously backpedaled on her Monday release and tried to say that it was all a mistake and that she mistook the data.

It is typical WHO behavior to change their narrative in midstream, but in this case, the horse was already out of the barn. Technocrats have indeed punked, plundered and pillaged the entire planet, achieving their near-term goal of killing Capitalism and Free Market Economics. Click Here for Full Story.
June 3, 2020 - END THE LOCKDOWN, END COVID-19 RESTRICTIONS, END SOCIAL DISTANCING, END WEARING FACE MASKS - There's a growing-body of evidence from credible sources that COVID-19 pandemic is not the serious epidemic as we have been led to believe by our federal and state governments and health officials such as Dr. Anthony Fauci (NIH), and World Health Organization (WHO) and Center for Disease Control and Prevention (CDC). In light of this growing body of evidence, it's making H.R. 6666 TRACE Act look like a fear-based attempt at limiting the constitutional rights of Americans.